Options
Mark Topic as New

Mark Topic as Read

Float this Topic for Current User

Bookmark

Subscribe

Mute
1) On which port does service processor interface/LIF is configured ?
2) Is there any physical connectivity for SP( Service Processor) to network switch ? I dont see any port assigned for SP when i check "network interafce show".
3) If there is no connectivity how SP/RLO get IP assigned ?
4) We have to modify the IP address of SP interface as we are changing the network switch ?
1) IP for SP configured on dedicated wrench port. Usually, it looks like a wrench symbol.
2) which switch you are talking about? Usually, SP connected to the management switch
3) you can use DHCP or configure IP & GF for SP manually
4) I do not see such need
1) I dont see SP configured on any of the ports such as ( e0M , e0a,b,c,d,e,f) . What is the port name and with which command i can check that ?
2) Iam asking is there any physical connectivity for SP from netapp array to network switch , similar to what we have for node management or data ports.
Regards,
Mohit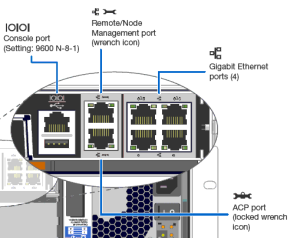 1)
cluster1::> system service-processor network modify -node local -address-family IPv4 -enable true -ip-address 192.168.1.202 -netmask 255.255.255.0 -gateway 192.168.1.1
2) I do not understand what switch connectivity you are talking about. Usually, e0M & SP (wrench port) living on a single physical port but have two different MAC addresses. And usually, wrench port connected to dedicated management network switch or at least management network VLAN.